This list of my top five running shoes of all time is solely based on my personal experience of almost 40 years of running and being a running shoe freak (my wife often calls me "Imelda"), but after seeing an article on the Sneaker Report:
The 100 Best Running Sneakers of All Time
I was left scratching my head at some of the choices on the list, so I decided to put together my own list for you to scratch your head over. The criteria I set for the list is that I had to have bought more than one pair of the shoes in my life (I broke that with my first choice-but, hey, it is my list), that I had some original pictures of the shoe to share, and most importantly that the shoe left such an impression on me that I can still "feel" what it is like to wear the shoes in my mind years or decades later.
Tiger Marathons
#1) The Tiger Marathon
: I think I have to agree with Sam Winebaum and his own response list
Top Running Shoes of All Time
that the Tiger Marathon should be in the number one spot on my list. I have never met Sam, that I recall, even though we both live in New Hampshire, but we both started running about 40 years ago and that meant that we fondly recall our first running shoes and well this was one of the few ones out there, so I am very fond of my memories of this shoe.
Adidas Gazelle
When I started running in 1973 back in 9th grade I had a pair of "plastic" K-Mart cheap imitation running shoes. Our team could order a pair of running shoes from a guy in a van and I along with many on the team ordered a pair of Adidas Gazelles for $13 each. I never could imagine so much comfort on my feet when I got those shoes. They were beyond incredible, however they would barely be called running shoes today. I bought some remakes a few years ago, but they did not cuddle my feet as much as I remember those first Adidas shoes did. I wore them until holes allowed my toes to poke through the bottoms and still wore them some more. They were like a pair of well worn jeans, but I only mention them fondly because of their comfort, not because of memories of running in them.
A short while after buying the Gazelles, I bought the Tiger Marathons at a sports store for about $18-$19. They were thin and light and had a nylon upper. I didn't feel the cushioned happiness that I got from the Gazelles, but I felt in contact with the ground when I ran. The rubber on the bottom was long wearing and they were another pair of shoes that I wore long past the days where they still looked respectable on your feet. I remember I even duct taped them together at times to get more use out of them. These were minimalistic shoes in the best sense of the word and are why probably to this day I enjoy light thin minimalistic shoes. Sure they often slapped the ground, particularly after the front sole of one pair started coming unglued so that the front of the shoe opened like a mouth as I ran, but they were a memorable shoe and the shoe that let me first "think" that I was a real runner. The Tiger Marathons are not to be confused with the Tiger Pinto whose upper looked the same, but the sole seemed even thinner. I never had a pair of Pintos or the Nike equivalents of either shoe, but my teammates did.
The Tiger Marathons were still good enough to climb Mt. Cadilac in Maine that summer.
...and to wear the next year along with tube socks.
#2) The Nike LDV
: Most people will agree that the Nike LDV is probably not the greatest shoe that Nike has ever produced, but it is one that I wore that I bought quite a few times when I was running in college. It was comfortable, had more cushioning and a taller and "wider" heel than other shoes at the time They also seemed to be more "technologically" advanced as Nike was getting their "foot" in the door and a name for producing running shoes that were "different". We pretty much "were convinced by Nike that they had to be right with all the technology they started putting into shoes-even if the science was dubious! They even had a pair of running shoes with a wider flair at the heel. I already had been wearing the Waffle Trainer which was similar to the Tiger Marathon in the upper, but had that famous "waffle" sole instead of the flat rippled sole of the Marathons. The Waffle Trainer was more cushioned and a bit more unstable than the Tiger Marathons and every time I got a new pair they always seemed to rub and blister me on the top of my foot. I bought a remake of this shoe over 10 years ago and did some running in them and got the same blister. The LDVs seemed to work for me while running and they were great shoes for kicking around in too! I bought some Nike remakes of this shoe a while back and the reissues felt nothing like the original.
1979 Wheaton College Cross-Country team at a pre-season camp in Wisconsin. What a great team of guys!
I am sporting a Bill Rodgers Running Center shirt and some LDVs.
Can you pick out the multiple National Champion
and future 13:22 5000 meter runner in this picture?
1979 my LDVs at the ancient starting line in Corinth Greece.
The apostle Paul wrote this to the people who probably saw these blocks daily
in their city 2 thousand years ago,
"Do you not know that in a race all the runners run,
but only one gets the prize?
Run in such a way as to get the prize." 1 Corinthians 9:24
1979 Edinburgh, Scotland sporting a pair of worn-out Nike LDVs.
I traveled all over Israel and Europe one summer rotating two pairs of these shoes.
One of my many pairs of Puma H Streets
My H-Streets at the 2008 Applefest half-marathon.
#3) The Puma H-Street
: Technically the Puma H-Street was a fashion shoe, not a running shoe. It was designed to have an upper similar to a spiked shoe with a very thin soft sole on the bottom. I bought a bunch of these shoes in the mid 2000s, as I enjoyed the minimalistic feel to them. I know the POSE runners and others were getting into them too at the time, but
Born to Run
had not happened yet, so the typical runner would just laugh at my shoe choice (many friends did!), but I really liked them. They gave me a feel of the road similar to running in the Tiger Marathons decades earlier. The colors on these shoes were crazy and finding them meant searching eBay. I liked them so much, I even wore them to school teaching, which many of my colleagues found peculiar. I never raced more than a half-marathon in them, but raced in them often as well as doing about 1/3 of my training in them for years.They were great on the track! They never wore out. The tops would just fall apart. I still have a few pairs (some very new) hanging around in one of my piles or boxes of shoes.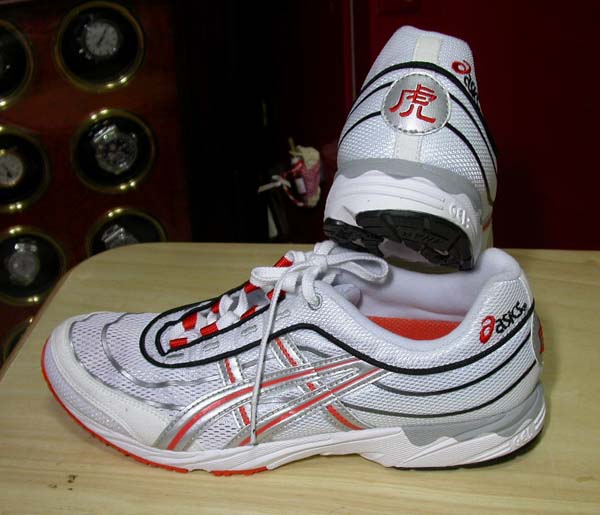 The Asics Tiger-Paw
The Tiger X Caliber from 1980.
Not to be confused with the X-Caliber GT
#4) The Asics Tiger-Paw
: I was so happy wearing this shoe. It was a racing shoe that could be worn as a daily training shoe and that is what I did. There were a few versions of this shoe before Asics discontinued making them. I think I bought up about 5 pair when I realized they were no longer being made and was sad when I could no longer run in any of them due to how worn out they got. I wished I could have bought more. They were the last shoe I truly felt comfortable in all the time. They were light and airy to wear and had no added doo-dads to alter what my feet wanted to do. The uppers just held the sole onto your foot so that you could run without thinking or worrying about anything foot related, yet they still kept their form. It was like running in a slipper when these shoes were on my feet. The Asics Hyper-Speed was a replacement shoe, but they were softer and Asics put holes in the bottom which is not a pleasant thing on rainy or snowy runs. I still have a pair of the old Tiger-Paws that I use in my snowshoes when snowshoe racing. The Tiger-Paws reminded me of a favorite pair of shoes I bought in the summer of 1980 in the Chicago area (from Dick Pond). They were called Tiger X Calibers, but they were not the Tiger X-Caliber GT's that gained great popularity a year later. They were something earlier. They were extremely light and felt like a slipper at a time when shoes were starting to get clunky. Running in them was a revelation to my feet, but I could never find a pair to buy after that anywhere else. I am not sure that they got much distribution.
There are the Tiger X Calibers post college X-C race in 1980.
The design is pretty similar to the Tiger-Paws
that came out over 20 years later.
Tiger-Paws at the Newburyport 10 miler early-mid 2000s.
5) The Nike Air Sock Trainer
: In the 1980s I was big into Triathlons. The Air Sock Trainer was a shoe I didn't have to tie when in the transition area or at any other time. I also liked the feel of this shoe when I ran. I thought the mesh over the toes was a little tight and my toes would eventually break through and rip the stretchable upper, and that was my only complaint with this shoe. I wore them in training and in races including Ironman distance triathlons. I think I bought three pair of these shoes in all, but my final and last pair ended up stolen and lost while I was doing some swim training across a secluded lake by myself. I had parked my car and stashed my towel, keys, and these shoes under a tree. I recall as I swam back and forth across the lake a couple of times seeing some teenagers hanging around, but thought nothing of it. I was practicing using my new wet-suit which was blue,pink, and yellow. Black wetsuits were not the norm in those days. When I got out of the water, I noticed all my gear was gone and I could not find any trace of them at all. I was stuck on this beach by myself and I was locked out of my car. I had to get some help to call the police and a tow-truck and I had a strange decision to make. Do I go and find a house and knock on doors with my wet-suit on, looking like I was dressed as a silly superhero or do I take off the wetsuit and go door to door in my Speedo? Talk about feeling uncomfortable with either choice! I compromised and chose the half-wetsuit look (top down) and finally got to a phone and a received a tow home. I was ticked that I had to pay for that tow home and that I never recovered my fairly new pair of Nike Sock Trainers! I may have been bold enough to buy day-glo colored wetsuits, but I never got the courage to buy the bumble-bee colored Nike Sock Racers!
They don't make colorful wetsuits like this anymore!
Finishing the swim at the 1987 Cape Cod Endurance Triathlon
just a few weeks after getting locked out of my car.
Hovering over the finish line at the 1986 Cape Cod Endurance Triathlon
in my Nike Sock Trainers after traveling 140.6 miles wearing a Speedo!
Well, those are my top 5 favorite shoes for now! I didn't really cover my 5 favorite racing shoes. Maybe I will do that some other day! I also have another shoe that some day may make this list, if I ever get healthy enough to put some good mileage in them. The
Hoka One One
"maximallistic" shoes have been my go to shoe for over a year now post hip surgery and even though one pair I own is slightly too small and the other pair is slightly too large, I have some warm and tender feelings already for how these shoes feel on my feet as I run. I would love to do a marathon or go further in them.
My Hoka One One Bondi B's with a pair of my Puma H Streets:
two of the most dissimilar running shoes you can find,
but I like the feel of both on my feet!





As you can tell I am very passionate about running and running shoes. One criteria I had for choosing my favorite shoes had to do with how they felt on my feet. I would like to also write about something else I am passionate about and for a people that I have a lot of compassion for and that is the children and adults from the Mathare Valley in Nairobi, Kenya. Bunched together in a tiny tin-shacked shanties live close to one million people in one of the worst slums on planet earth.

I had the pleasure last year of visiting and teaching in some of the schools in the Mathare Valley

. The streets of Mathare are open sewers filled with trash and most children do not have a pair of shoes to call their own as they walk around in the fifth.



Tin-shack shanties in the slums of the Mathare Valley.


Shoes on the feet of Kenyan students in the Mathare Valley.


I walked this path many times in Kenya. I couldn't imagine doing it barefoot!


Some of the boys I met at the Joska School in Kenya.
Three local girls are raising money to buy a pair of shoes for each of the over 1000 students from the Mathare Valley who attend the Joska School, a boarding school of mostly tin buildings 1/2 hour away from the slums where the children would otherwise live. Please watch the video that they made and if you happened to save some money on your last shoe purchase and would like to contribute a bit of money to this cause that would be greatly appreciated. They are trying to raise donations of around $30,000 so that every child at the Joska School will have a new pair of shoes on their feet. I can only imagine how wonderful a new pair of shoes would feel on the feet of these children who have so little. It costs about $20 to buy a new pair of shoes and a pair of socks for one child. That is about the price I paid for my first pair of Tiger Marathons back in 1973 and I know how much pleasure those shoes gave me many years ago. What a simple gift to give to a needy Kenyan child.